Gentle Vinyasa Flow & Breathwork
July 13, 2021 @ 6:00 pm

-

7:00 pm
A Gentle Vinyasa yoga class entails stringing a series of yoga poses together intentionally moving from one to the other, using the breath.
About this event
Join us for a restorative practice for both our bodies and minds.
A gentle vinyasa flow is slower than your typical Vinyasa class. A Vinyasa yoga class entails stringing a series of yoga poses together moving from one to the other, using the breath. We will be intentional and slow-moving in both standing and seated positions, giving ourselves the opportunity to calm our nervous system, and truly drop into our bodies.
This class is for all levels!
If you are new to yoga this is a perfect class to be able to move slowly through poses and get more comfortable with your practice. If you are intermediate in your yoga practice this is a great class to hone in on your vinyasa through intentionally syncing your movement with your breath.
There will be extra focus on realigning our subtle energies in the body through connection with the feet and intentional breath.
We are excited to flow in person with you!
To keep everyone safe, masks will be required for class. We will be moving slowly through poses and the masks shouldn't be a hinderance. Thank you for your cooperation!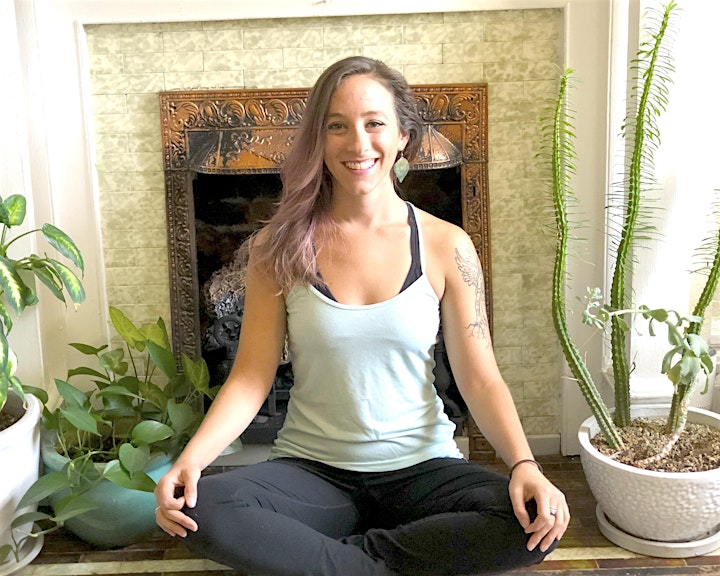 Lisa Trope, RYT 200 and Breathwork Facilitator :
Lisa learned about yoga as a teenager and she would stumble after her mom into yoga classes at their local gym.
However, it wasn't until 2016 that she started to really realize the power of yoga and breath. During one class, she was instructed to take deep belly breaths while she connected with her body; she realized how light-headed she felt. She knew this came from living in a society that glorified the mind but often abandoned the body; she was bringing much-needed oxygen into her body that prior she had ignored. She was then lead into another class whereby at the end she was able to drop into her "rest and digest" nervous system and feel calm after a long day's work. It was like nothing she had felt or experienced before.
This led her to travel to Ecuador for a yoga teacher training. She went to Durga's Tiger School in Ecuador, both a Yoga Alliance and Yoga Alliance International, a certified school that focuses on shamanism, art, play, ritual, meditation, and tantric yoga as a way to allow students to better connect with their bodies physically and energetically. Lisa also has completed a Yin Yoga workshop under the instruction of Paulie Zink, has attended classes under Suddha Weixler, has attended Facilitator Training 1 and 2, and is a certified Revelation Breathwork Facilitator, and has hundreds of hours of self-study. She most recently has been focused on learning different breathwork and pranayama which have proven to help move clients from anxiety to calm, to have more energy, better sleep, among many other benefits. She also is committed to continuing to learn the culture and rich history of yoga and doing her best to respect its lineage.
Lisa wants to be able to share what she was lucky enough to have learned. As a teacher, she wants to provide guidance to allow you to connect with yourself and your body in a way that is most powerful and embodying for you.