Embodied Dance
February 1 @ 7:00 pm

-

8:00 pm
Are you looking for a new way to work out that is freeing and fun? Are you feeling like there is heavy energy that needs to be moved from your body, but you don't know how? Have you never even considered dance as a form of both exercise and healing?
** If this is your first Embodied Dance class with Lisa please use code DANCE at check-out for a discount**
Whether you are having a great week or struggling. Whether you have a regular workout routine or don't. Whether you have danced professionally or feel scared to attempt to dance alone in your room with the blinds shut. This class is for you. Dance is something humans have been doing for centuries and for good reason.
Embodied dance is a class where we will get the opportunity to move stagnant energy from our bodies! Life's stressors make it so we store stress in our bodies, even down to the cellular level. Embodied and conscious movement is a powerful way to move this stuck energy.
In this class we will:
Start with a grounding meditation that is focused on connecting with each chakra center (energy centers in the body)
From here we will dance for about 40 minutes where you will get the chance to let go and move intuitively however feels good for YOU, while also receiving helpful cues to be able to move stagnant energy from the body and to move more from the mind into your body
We will end with a meditation allowing for space to integrate the experience and release into savasana.
This is a powerful practice, where we promise you will you leave feeling lighter and brighter than you have all day or maybe all week. One attendee after class shared that they felt, "Colorful. Like a rainbow."
** If this is your first Embodied Dance class with Lisa please use code DANCE at check-out for a discount**
** Early Bird Pricing: $18 before 1/29, $22 after**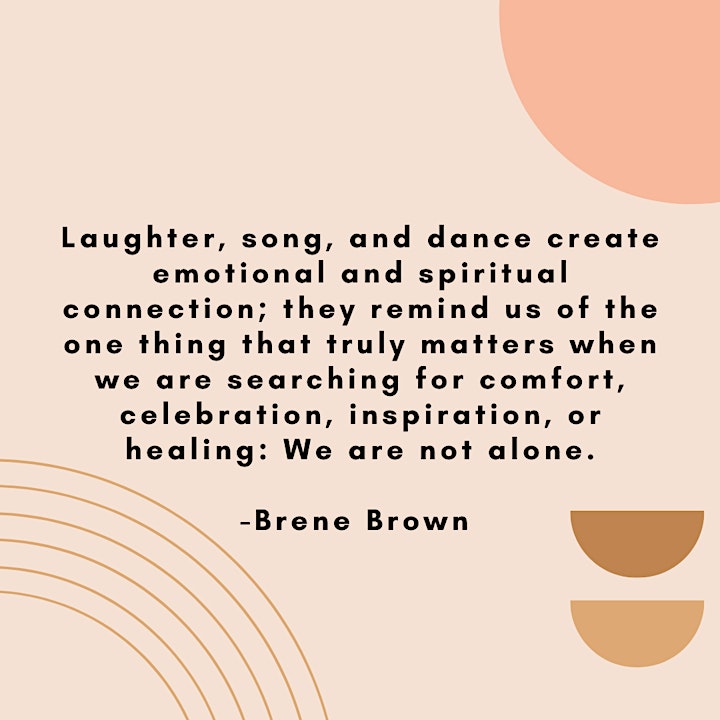 breath workAbout Your Instructor:
Lisa is a trauma-informed Somatic Experiencing practitioner in training, facilitator, and certified Tantra yoga instructor. Lisa is studying multiple modalities to help move more from the mind into the body and to deeply understand how the body works with our environment.
Lisa has brought together all of her learning over the last decade to create Embodied Dance. As a part of her self-healing journey she found that dance and specifically more embodied dance helped her reconnect with a body she often felt dissociated and disconnected from, move stagnant stress from the body, and move more deeply into her power and joy.
Lisa also has worked as a grassroots community organizer in Colorado where she spoke with thousands of Coloradans about difficult topics. She facilitated hard conversations between community members and elected officials. Lisa has also enjoyed co-facilitating a bi-monthly women's circle with her friends that focused on creating a vulnerable space for women to find community, through sharing their struggles, and setting powerful intentions for the next moon cycle.
She wants to be able to share what she was lucky enough to have learned and experimented with that has lead to a truly powerful class for connection, healing, and fun!
Please don't hesitate to connect with her through Instagram, Facebook, or email, [email protected]